KNX interface for M-SHEV en M-VENT control panels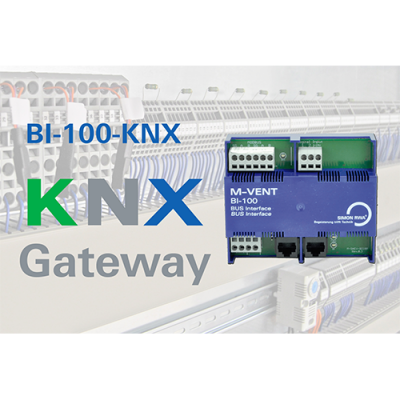 KNX systems are the worldwide standard in building automation. BUS systems based on KNX offer many advantages, in particular, heating, lighting, blinds, ventilation and security technology can be integrated across all building trades. All functions are controlled by a central control unit. Because KNX is an independent BUS standard, products from different manufacturers can be flexibly interconnected. All KNX devices understand each other and are 100% compatible - even in mixed operation. For the end user, this results in an infinite number of possibilities for building automation.

The new BUS interface BI-100-KNX is an add-on module for the M-SHEV and M-VENT modular control panels, the control units for the automation of SHEV and ventilation functions. The BI-100-KNX provides an interface between the internal ModBus system of the modular control panels and an external KNX network. This means that the central control units can now be easily integrated into a KNX standard building management system and guarantee simple, fast installation.

The BUS Interface BI-100-KNX is a bundle consisting of the module BI-100-MB with ModBus output and a certified ModBus-KNX gateway. The compact gateway offers 250 freely configurable channels (KNX data points). The use of the ModBus-KNX gateway does not result in any restrictions. The functional scope of the BUS Interface BI-100 is fully given and consists of up to 32 virtual fan buttons, which can be freely parameterized in their priority and assignment via software interface SICO LINK. They can be mapped to the different motor relays MR-120 in varying priority. Thus, it is possible to realize a variety of ventilation concepts for window automation via the building control system. Furthermore, all status and condition information of the module control center are available for call-up and visualization.
BUS interface BI-100 controls via KNX or ModBus only commands for controlled natural ventilation. Triggering for SHEV is done by wire via electrical manual controls (manual pushbuttons), smoke detectors or a fire alarm system. Parameterization of the system must be done by an authorized partner.