Control Units SHEV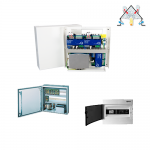 Every smoke- and heat exhaust (SHEV) system requires an approved Control Unit. All the control units in this category are designed and produced according EN12101-9 and EN120101-10 and comply to all legal requirements. Combined with the right actuators, the correct additional components and a correct installation/assembly, you are assured of a complete SHEV system that can be certified by every qualified inspection & certification body.

If you are looking for a simple but complete control unit for your SHEV installation with a few actuators, we recommend the compact control units.
However, if you are looking for a comprehensive digital control unit (e.g. more groups to control) or if you wish to (afterwards) expand your control unit, we recommend the use of a modular control unit.

We always advise you to contact us to determine the correct control unit because of the many possibilities, but also because of the legal requirements that a SHEV system must meet!
Showing 1 to 6 of 6 (1 Pages)